Use contrasts. It doesn't matter how many colors you have, because even one paint can express anything.
Biography
Anatolii Kazymyrchuk - Contemporary Artist.
Anatolii was born in 1985 in Odessa (Ukraine), where he grew up. In 2012, he moved to Lviv (Ukraine), where he has lived since then. In his works, he combines art with social issues and inspired by geometry, modernist and contemporary movement based.

Each artwork is unique, because using a combination of styles, shapes, colors, textures through which meaning is laid and emotion.
Meaning and feelings are always in the details, shades, shapes and textures. The main thing is to be honest to others and to yourself and bring to people what is called art, so that through the centuries you will be remembered as an outstanding contemporaneity artist.

Art exhibitions of classic and contemporary art, nature, everyday moments of life, events are always give new input and inspiration for creativity. Inspiration can be drawn from everything, you just need to look around.

Anatolii Kazymyrchuk inspired by Mark Rothko, Jackson Pollack, Pablo Picasso and Andy Warhol, Damien Hirst, Jeff Koons.
Influences
Mark Rothko, Pablo Picasso, Jackson Pollack, Andy Warhol, Damien Hirst, Jeff Koons
Education
2022-2022

The Museum of Modern Art (MoMa), Specialization "Modern and Contemporary Art and Design" New York, United States
2019-2019

SoftServe IT Academy, Practical Testing Lviv, Ukraine
2004-2010

Odessa National Academy of Food Technologies (ONAFT), specialist Automated control of technological processes Odessa, Ukraine
2001-2004

Higher Vocational School of Maritime Tourism Service # 26 Odessa, Ukraine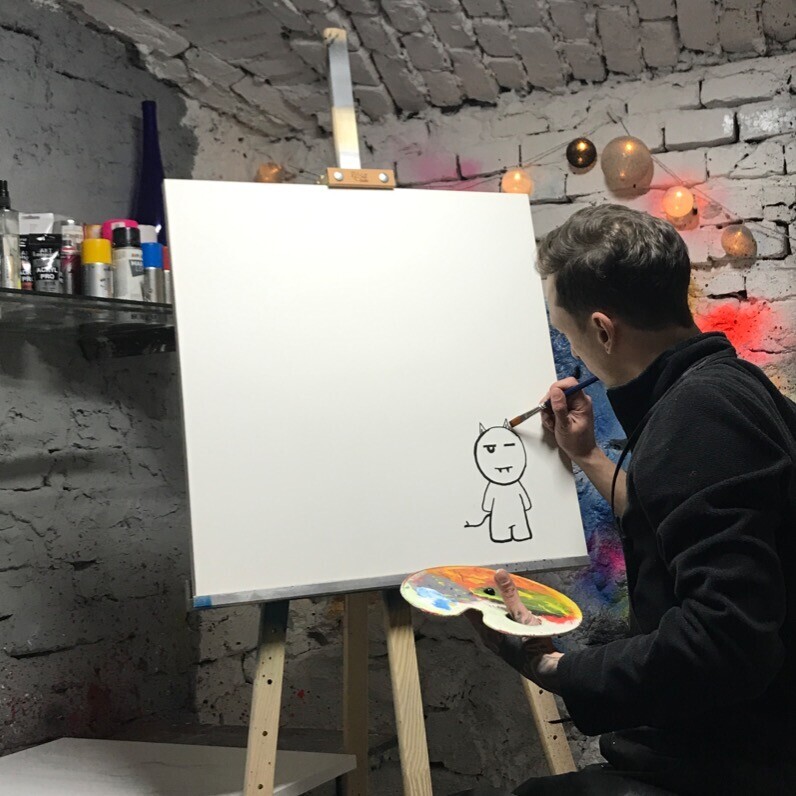 The artist at work
Collective Expositions
---
2022 Virtual Group Exhibition "The World Stands with Ukraine" London, United Kingdom
2022 Group international exhibition ARTBOX.PROJECT Zurich 4.0 "SWISSARTEXPO 2022" Zurich, Switzerland
2022 Participation in the 85th International Exhibition "INSHE ART UKRAINE 2022. STILL LIFE" Kyiv, Ukraine
2022 Participation in the International Art Festival "MALYUY.UA.WAR" Ukraine
2022 Virtual Group Exhibition "COLLECTIVE DREAMS" United Kingdom
2022 Group international exhibition "WAR AND PEACE" New York, United States
2022 ARTBOX.PROJECT World 2.0 Zurich, Switzerland
2021 Group exhibition "IMAGINARIUM", International Festival of Contemporary Art "Traces" Kyiv, Ukraine
Publications & Press
---